¿Que Pasa? 2 completes the package for new Junior Cycle Spanish and has been written for Second and Third Year students and teachers.
It is fully in line with the new Junior Cycle Specification for Modern Foreign Languages and helps to develop students' essential skills for learning Spanish.
¿Que Pasa? 2 comprehensively covers the Learning Outcomes and Key Skills of all three Strands of the Junior Cycle Specification for Modern Foreign Languages:

Communicative Competence
Language Awareness
Socio-cultural Knowledge and lntercultural Awareness
Aligned with the Common European Framework of Reference for Languages (Level A1/A2)
Student Textbook
¿Que Pasa? 2 is a follow-on textbook from the highly successful ¿Que Pasa? 1
Actively engages students in communicative activities and tasks to develop their Spanish language skills
Uses interdisciplinary teaching methods and an integrated approach to bring the five language skills of listening, reading, writing, speech and conversation into every lesson
Clear, student-friendly layout with vibrant photos and creative illustrations
Six units of learning per year, including an assessment unit
The assessment unit provides information and practice to prepare for the Classroom-Based Assessments, the Assessment Task and the final exam
Learning intentions checklist is provided at the start of each unit
¡Practicamos! section helps students to practise all the language acquired throughout the unit
Authentic texts show natural language in use
Reading and writing exercises incorporate students' own lived experiences
Grammar is presented in an integrated manner, supported by examples and practice exercises
Up-to-date content, with tweets, social media posts, websites and blogs
Cultural information on the Spanish-speaking world - including sport, food, songs, recipes, tourism, climate, geography and history - promotes intercultural awareness
Suitable for mixed-ability classes
AFL techniques are used throughout ¿Que Pasa? 2
Includes success criteria (Criterios de éxito) for tasks and reflection activities to encourage students to assess their own learning journey
Peer assessment and pair-work activities allow for peer-to-peer learning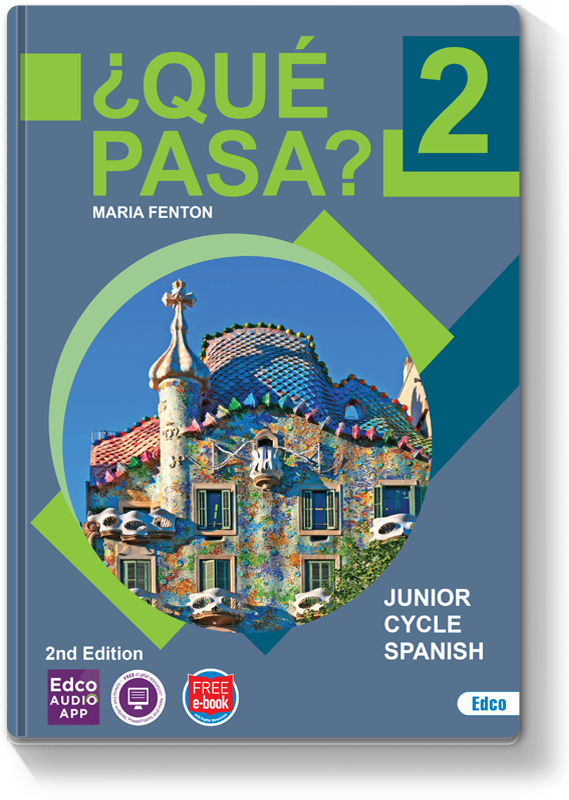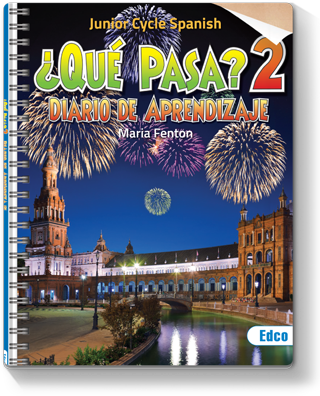 Diario de aprendizaje
A free Diario de Aprendizaje (learning diary), which is integrated with the textbook, helps students to:

reinforce learning
revise key words
reflect on learning
collect grammar notes
compile a portfolio of written pieces
put their new knowledge into practice
Free Student CDs
Two FREE student CDs with integrated listening exercises:

Allow students to practise their pronunciation and listening skills at home
Provide a wealth of authentic audio material with native Spanish speakers
Include Listen-and-repeat activities, fill-in-the-blanks exercises, and comprehension exercises based on dialogues, news reports, advertisements and weather forecasts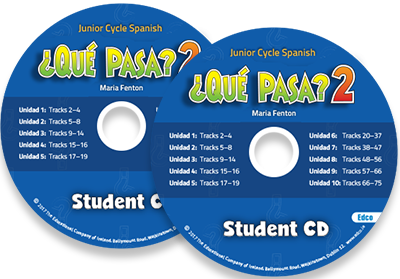 Teacher's Resource Book, CD and Posters
The ¿Que Pasa? 2 Teacher's Resource Book helps teachers to plan their lessons quickly and easily. It aligns to the Junior Cycle Specification for Modern Foreign Languages and it contains:

A complete planning section including a yearly scheme of work
Additional worksheets and exercises, class tests and homework activities
Summative assessments for Assessment of Learning

Transcripts and a teacher's CD with additional audio material
Language posters that act as visual aids for students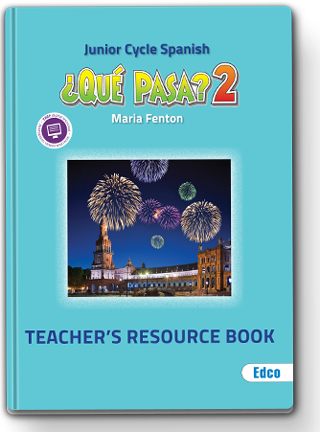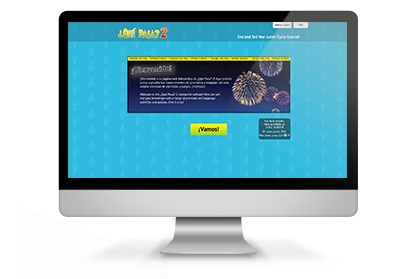 Digital Resources
¿Qué Pasa? 1 and 2 digital resources support the New Junior Cycle Specification's emphasis on the use of modern technology in the classroom and are designed to cater for different learning styles. Each unit is  supported by digital resources that are integrated for easy reference and lesson planning.
Teachers can access the ¿Qué Pasa? 1 and 2 interactive e-books at www.edcolearning.ie, plus a bank of free digital resources, including:
FREE student website with interactive grammar and language activities and quizzes to reinforce learning and practise language skills
Easy-to-use, ready-made editable PowerPoints for the classroom
Interview videos with students to support oral communication
Follow-up worksheets for every interview video
Innovative vlogs created by real students to encourage active engagement with the Spanish language (available with ¿Qué Pasa? 2 only)
Solutions to activities
Audio CD tracks available in digital format
FREE e-book
Students and teachers can download their free  

¿Qué Pasa? 2

 e-book by visiting www.edcolearning.ie/code and entering the code from inside the front cover of the textbook.